Peyrepertuse, Quéribus, Puivert, Puilaurens,.....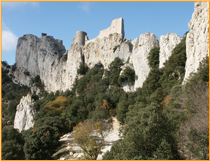 We've already mentioned the Cathar castles, but visiting at least a couple really is a must. The French Résistance also played a major role in the area.
for more information, please visit www.payscathare.org
Wines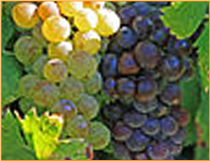 Our wonderful wines include Corbières, Minervois, Fitou and of course, Blanquette de Limoux; all of which you must try, of course!
You must visit the astonishing Gorges de Galamus and mysterious Pic Bugarach. Or you could follow in the footsteps of Matisse and the Fauve painters to the picturesque port of Collioure.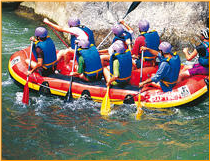 The river Aude is renowned for its watersports; major championships have been held here.
Simple life
There's lots of lovely markets, including Espéraza on Sunday, the famous medieval arcaded market at Mirepoix on Monday and Limoux on Friday.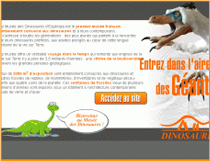 We're big on pre-history with the dinosaurs at Espéraza, caves at Tarascon, and the 450,000-year-old man at Tautavel.